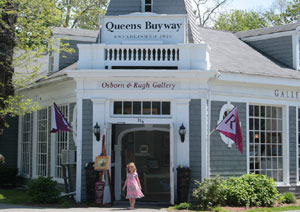 Visit
Hours
S&nbspU&nbspM&nbspM&nbspE&nbspR
July/August&nbsp&nbsp
10 - 5
Open Every Day
S&nbspH&nbspO&nbspU&nbspL&nbspD&nbspE&nbspR&nbsp&nbsp&nbspS&nbspE&nbspA&nbspS&nbspON
May/June
Sept/Oct/Nov/Dec
10 - 5
Sunday 10 - 3
(Tues. by chance)
O&nbspF&nbspF&nbsp-&nbspS&nbspE&nbspA&nbspS&nbspO&nbspN
Jan/Feb/Mar/April
10 - 4
Sunday 10 - 2
(Tues. by chance)
Private showings anytime by appointment.
Located at the historic shopping area of Queen's Buyway near the Village Green in Falmouth, MA (on the corner next to Coffee Obsession).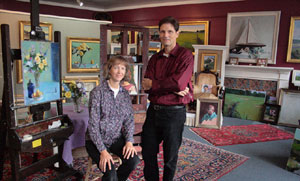 Hillary Osborn & Doug Rugh
Encouraging connoisseurship, craftsmanship and aesthetic integrity and promoting the value of original works of art in our lives.
The Studio
The gallery of Cape Cod artists Hillary Osborn and Doug Rugh doubles as a working studio and visitors are welcome to stop by where one of the artists is always at work and observe paintings in progress
Locals will recognize many of their favorite spots in landscapes of Cape Cod and the studio is also filled with a variety of still lifes, florals, interiors and portraits. The oil painters are happy to share their knowledge and appreciation of art and oil painting and welcome any questions you might have.
History
The husband and wife team have been painting fulltime since 2000 and had separate studios at the Cataumet Art Center in Bourne, MA until the Fall of 2008 when they moved to the present combined gallery and studio space at Queen's Buyway - the historic neighborhood of Falmouth, MA - near the Village Green on Cape Cod.
Osborn and Rugh believe that it is important for artists to study directly from life and on location to understand visual nuances of ever changing light and develop a keen eye and have spent many years painting on location and from live models and studying the craft and aesthetics of oil painting.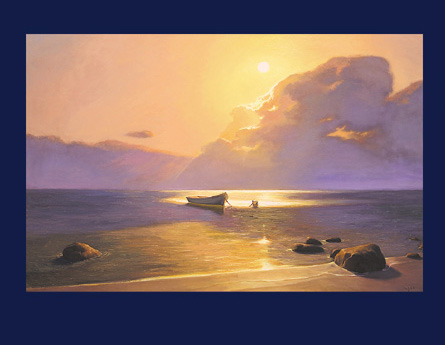 Art Greeting Cards
6 Different blank greeting cards/envelopes featuring landscape paintings by Hillary Osborn & Doug Rugh.
Osborn Artwork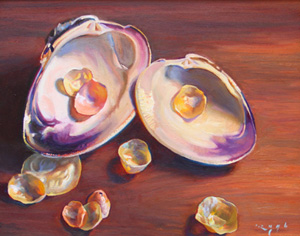 Rugh Artwork
Landscape Commissions
Both artists create landscapes from the surrounding areas through the outdoor season and work up larger studio paintings in the gallery...
Portrait Commissions
Doug Rugh, CM, has been painting portraits in oil for over 30 years and has had over 2,000 live sessions with a model...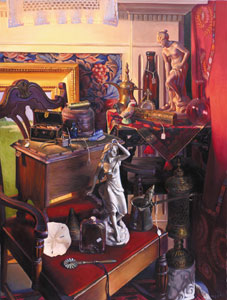 Standing in Front of a Painting
"We've devoted our careers to creating original works of art because we are continually amazed with what can happen at the easel..."
Artists Hillary Osborn and Doug Rugh capture the rich landscape and lifestyle of the Cape in their captivating paintings.
Cape Cod Life, Annual Life 2022 Article by Chris White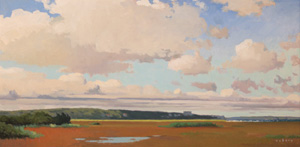 Trawling for Treasures
Simply Falmouth Magazine Article by Theresa Pease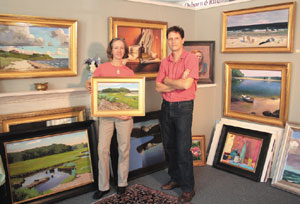 Collecting Art
Suggestions to keep in mind when investing in art and 10% collector's discount and 15% patron's discount for 5 or more purchases at one time...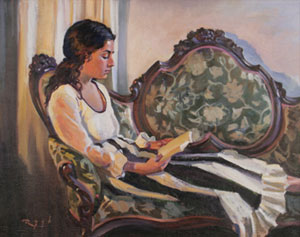 Talking Points
When you need to convince your spouse that you need an Osborn or Rugh painting...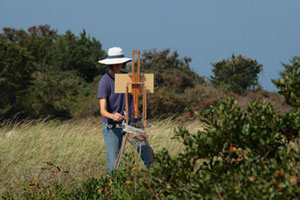 Lessons
Hillary teaches privately in the studio and holds workshops on location...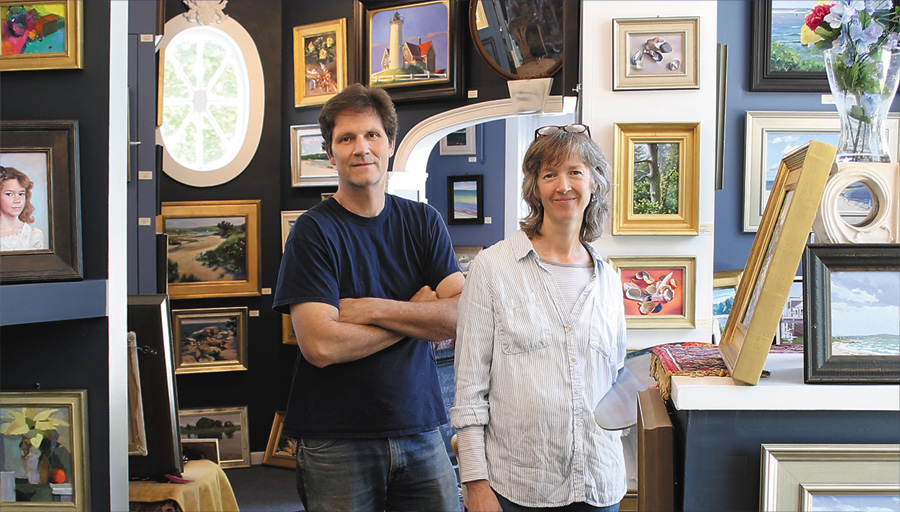 If You Like What We Do
...and want to share the studio with your friends and family here are some things you can do. Thanks!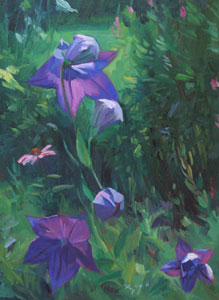 Wedding Registry
The bride and groom pick out paintings or choose possible commission subjects and we set up a share system on a web page for them to email out to the wedding party...
Sample Page »
Osborn Works on Paper
Original signed oil sketches, mostly landscapes and still lifes...
View Artwork »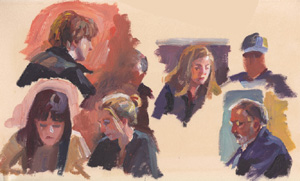 Covertly Aquired Portraits
In the field, stealth operative Doug Rugh [redacted] aquired personality profiles without the knowledge of the marks. These assesments are provided as visual data. Material is held ransom until bounty is paid...
Targets Aquired »
Rugh Works on Paper
Original signed studies and sketches, often figurative, in charcoal, gouache, conte, pastel and watercolor...
View Artwork »


Venmo/Cryptocurrency
Contact
Contact the artists or subscribe to the occasional newsletter...